LTE | How to top up your Telkom LTE data
This article is for existing Telkom LTE customers who need to know step by step how to top up their Telkom LTE data.
When topping up your Telkom LTE data, we recommend that you switch off your mobile data and only have your Wi-Fi connected to your Wi-Fi device. What this application does is by switching off your mobile data it syncs the data from your SIM card directly through to the app giving you direct interaction with your package via your Wi-Fi connection.
How to top up your Telkom LTE data:



Step 1: Navigate to your Telkom App.

Step 2: You will get to the main dashboard on your screen.

Step 3:

Navigate to accounts.



Step 4: Select Buy.

Step 6:
Select the bundle type - LTE/LTE-A once off.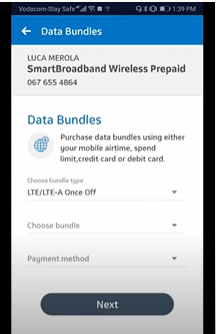 Step 7: Select your preferred bundle amount eg. 5GB + 5GB.

Step 8: Select your preferred payment method (this payment method will be linked to your account).

Step 9: A confirmation screen will appear and you can then just select continue.

Step 10: Bundles will be successfully purchased.


Related Articles

Telkom LTE Data Validity, Consumption & Rollover - Explained

This article is for clients who need an explanation that covers all Telkom's LTE/LTE-A Pre-Paid, Post-Paid and Top-Up plans. At the beginning of a new month, customers will be allocated their monthly inclusive data which is made up of Anytime Data ...

Telkom LTE Renewal Process

This article is for existing Telkom LTE clients who are interested in renewing their Telkom LTE contracts. You have the option of either renewing for just a Sim-Only deal or renewing for a Sim + Router deal from the 21st month of your Telkom LTE ...

Telkom LTE Pro-Rated Data Allocation - Explained

This article is for Telkom LTE customers who have just signed up and need the pro-rated data explained to them. Pro-rated data allocation refers to fair data distribution relating to the day of the month your Telkom Capped LTE package was activated. ...

The process of changing your Telkom LTE package

Read this article if you want to learn more about upgrading, downgrading, renewing or migrating your LTE package. How upgrading or downgrading your LTE package to a new deal works: The ability to change your Telkom LTE package depends on how many ...

LTE | Telkom Uncapped LTE | Why is my speed so slow?

This article is for existing Telkom Uncapped LTE customers who are experiencing a slow LTE speed. You could be experiencing slow speeds due to your LTE data usage. Telkom reserves the right to apply Fair Usage Policies on the Uncapped LTE account if ...